Now that schools are back in session, the "always in season" athletes are back to the grind. Well, most fall sports athletes have been working for the last couple months on strength training and conditioning. High school is an exciting time and many 15 – 18 year olds are excited to utilize their skills in several different sports throughout the school year. With many athletes participating in fall, winter, and spring sports, muscle recovery could not be more important.
An injury during the fall season could derail an athlete's full year of sports. Let's take a look at four tips that you can utilize to make sure your high school athlete (or team) recovers properly and stays healthy throughout not only the fall season, but the whole year.
---
Sleep
Between training, practice, games, school, part-time jobs, after-school activities, and homework, a high school student-athlete has a lot to juggle. It's important for parents and coaches to understand this and to make sure that there is enough time in the day to get everything done without sacrificing sleep time for a still growing athlete. 8-10 hours of sleep per night is vitally important for a high school student-athlete. After hours trainings, late practices, early practices, and personal training need to be monitored closely. Athletes that are solely focused on a successful season will gladly sacrifice rest for training. Be sure to step in and make eight hours non-negotiable.
Nutrition
With a high school athlete's body still growing and maturing, it's important to feed their muscles with proper vitamins, minerals, and nutrients. Home cooked meals are generally more nutritious than school lunches or restaurants so packing a lunch and eating dinners after practices and games at home is always preferable. We also recommend sending your student-athlete with healthy snacks to eat throughout the day to maintain energy and keep their metabolism running.
Water is also, obviously, very important. It's easy for high school students to get their hands on less healthy beverages like sodas, coffee, energy drinks, and high sugar sports drinks so it's important to make sure that your athlete understands the importance of skipping that sugary soda for water and the benefits that it will have on their body and their game.
Muscle repair
Each workout, game, and practice causes damage to muscles and without proper care, your athlete could be opening himself or herself up to injury. It's important as a parent and/or coach to take an active role in ensuring that your athlete is taking care of their body and muscles by:
Implementing an active recovery training day

Low impact, low stress workout to improve circulation and promote muscle rebuilding.
Talk to your son or daughter's coaches to find out if they're doing this currently or if they could implement it to prolong their season and help repair muscles.

Utilizing a cool down after each practice
Daily (preferably several times per day) stretching

Dynamic and static stretching depending on the occasion. Check out our FREE 7 Tips to Prevent Injuries eBook that dives more into the importance of both dynamic and static stretching and when each should be used.
Avoid playing through pain
It can be very tempting for a player, coach and even a parent to push their athlete to play through some pain, especially when a win or scholarship is on the line, but it's important to understand that pain is a way of telling your body that something isn't right and if it keeps going through stress it's likely to get worse before it gets better. Taking some time off early on to let their injury repair will likely mean missing less overall time than if they 'gut' it out. The athlete will likely always want to continue to play with the pain, but coaches and parents need to step in and explain that missing time now is in their best interest. Don't let a minor injury turn into a major or chronic injury because it was ignored.
The life of a student-athlete is hectic and always on the go. Because of this, muscle recovery often takes a backseat. Taking the time to educate your athlete on how to effectively help their muscles recovery can mean the difference between a successful year of sports and missing time constantly due to injuries. Addressing these things now as fall sports are starting up will set the year up to be a success.
---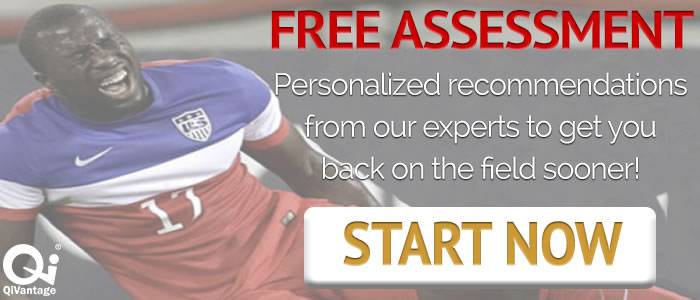 Preventing injuries should be a major focus of all coaches and parents (because it's less of a priority to the athlete as they train). Address the preventative measures now with our FREE Staying on the Field: 7 Tips to Preventing Injuries eBook! Download it now and share it with your student-athlete.